23/04/2019 14:24
PRODUCTS ILLUSTRATIONS
23/04/2019 14:24
ADVANCED CNC CONTROL
Pioneering Icon CNC Operation
• Kitamura's original Arumatik-Mi control offers the user exclusive feature rich functions to maximize and fully customize the operator experience.
• Maximizes Operator Convenience
• Customizable for Ultimate Productivity
• High Speed Processing, Super Smooth Control Process
• Fanuc User-Friendly
• Unlimited Lifetime Software Upgrades
• Developed for Continual Advancements
Powerful, Unique Features on the 19" LCD
• Customized main menu touch screens
• Visual work setting screens
• Maintenance Support Functions
• Video Guidance
Fanuc User Friendly
• Ability to run current Fanuc programs
• Little to no modification to existing programs is necessary
• Looks and feels like a Fanuc Control
• Comfortable and convenient for those customers who are unfamiliar with anything else
Maintenance Support Function
• On screen parts identification and ability to visually enlarge machine parts list
• Alarm release guidance screens – Instructs where to check should an alarm occur
• Periodic maintenance screens help to maintain optimum machine condition, offer longer machine life expectancy and reduce down time.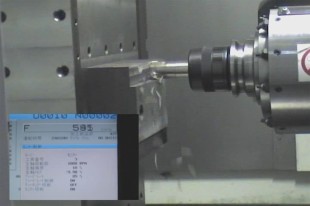 Kitamura Monitor/Adaptive Control
• Detects tool wear and controls cutting federate automatically by monitoring live spindle load during machining.
• Tool life is maximized and cycle time is shortened dramatically by adapting to the change in cutting conditions.
• Additional benefits include reduction in non-cut time and the prevention of machine crashes/human error.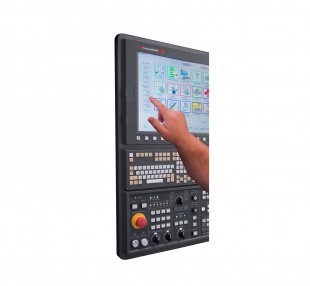 Standard Features, Advanced CNC Technology
• High precision contour control with 1680-block look ahead, 2800/blocks per second processing speeds.
• 1280 Meters of Memory
• 2GB CF/USB Data Server
• 700 Custom Macro Variables
• 102 Pairs Workpiece Coordinate System
• 200 Tool Offsets
23/04/2019 14:24
SPEED AND ACCURACY
High Speed, Ultra Precise Multi-Step Gear Driven Spindles
• 4-step Gear driven technology, up to 20,000min-1 spindle speeds on #40 Machining Centers. World's fastest
• Deliver strong low-end torque & high-end fine finish capability in one machine.
• Original shockless drive mechanism minimizes vibration from milling cuts
• Kitamura's exclusive headstock design completely relieves the spindle bearings from heat generated at the motor allowing for tighter spindle bearing preload, ensuring optimum accuracy & rigidity.
Ultra-High Speed Rapids on Solid Box Ways
• World's fastest at 60m/min (2,362ipm)!
• Patented high-precision twin ballscrew and dual feedback technology in horizontal machine models drive blazing feedrates and acceleration
• Pre-tensioned, fine pitch ballscrews and high-resolution servo motors deliver unparalleled accuracy
16 Million Pulse Encoder Technology
• Deliver outstanding positioning accuracy of ±0.000079"/Full Stroke
• Smaller incremental movements equal finer surface finishes
• Greatly improves cutting accuracy
• Roundness accuracy on circular cut to within 0.00012"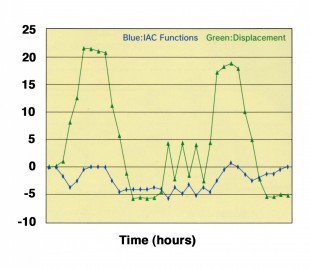 Kitamura's Exclusive Intelligent Advanced Control System (IAC)
• Consists of a series of strategically located sensors and machine efficiency monitors
• Controls the effects of heat displacement in order to ensure continuous accuracy in machining
• Minimizes head displacement to less than ±5 microns
• Monitors temperature of machine and compensation and has the ability to graphically display temperature changes over a 24hr. period
23/04/2019 14:24
PERFORMANCE
Multi-Step, Gear Driven Spindles
• Delivers high-efficiency cutting performance with low energy consumption
• No influences from characteristics of the motor.
• Efficient oil chiller system minimizes thermal displacement and maximizes spindle life to achieve the performance needed in high accuracy machining.
• Less motor heat means tighter bearing pre-load. This equals a stiffer and more stable spindle for excellence in cutting performance.
Focus on Productivity – Kitamura's Gear Driven Spindle Development
• 1992 – Kitamura first introduces #40, 10,000min-1, 2-Step Gear Driven Spindle
• 1997 – Kitamura first introduces #50, 10,000min-1, 2-Step Gear Driven Spindle
• 1998 – Kitamura first introduces #40, 15,000min-1, 2-Step Gear Driven Spindle
• 2002~ Current – Never before seen #40, 20,000min-1 and #50, 12,000min-1, 4-Step Gear Driven Spindles. WORLD'S FASTEST!
Focus on Technology – High Speed Rapid Feed Development on Solid Box Ways
• 1991 – 24m/min (945ipm) rapid feeds on SOLID BOX WAYS
• 1995 – 30m/min (1,181ipm) rapid feeds on SOLID BOX WAYS
• 1999 – 50m/min (1,969ipm) rapid feeds on SOLID BOX WAYS
• 2014~ Current – 60m/min (2,362ipm) rapid feeds on SOLID BOX WAYS. WORLD'S FASTEST!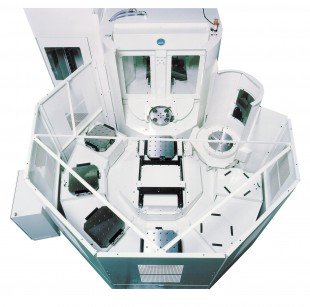 Efficiency-Enhancing, Workpiece Handling Systems
• Kitamura's multi-pallet systems offer savings on set-up time, manpower and tooling costs. Unique design features allow for these systems to be installed on existing machines in the field, allowing for standard machine usage and eliminating extended delivery times
• Flexible Manufacturing Systems are tailored to each individual customer's manufacturing requirements and come in a variety of types and sizes to fit any type of machining application. Easily expandable, these systems allow for the addition of systems, cells, machines and loading stations further promoting and unmanned machining development process for even the smaller sized job shops
• Kitamura's patented high-speed "Fixed-Pot" ATC system ensures accurate and effective tool changes and tool identification. Multi-tasking minimizes the "out-of-cut" time, returning the old tool and placing the next tool in the ready position while the tool in the spindle is still cutting the work piece.
• Patented "Fixed-Pot" tool magazine systems are expandable in the field (up to 300T on our HMC models) increasing machining uptime and allow for growth as you cultivate your lights-out business
23/04/2019 14:24
RIGIDITY
Rigidity – Machine Construction
• Solid column construction with high grade Meehanite casting combined with induction hardened slide ways ground to a super finish.
• Solid box guide ways deliver maximum anti-vibration capabilities and overall longer machine tool life.
• Hand craftsmanship ensures high quality and attention to detail in the manufacturing process
• Zero overhang design allows "Mycenters" to deliver peak accuracy 2-3 times longer than Machining Centers with table overhang
Solid Box Guide Ways
• Box ways are induction hardened in-house and precision ground with a turcite coating on the mating surface.
• Provides for maximum surface contact and exceptional anti-vibration capabilities under WOLD'S FASTEST rapid feedrates of 60m/min (2,362ipm).
• Solid box ways offer the user heavier cutting abilities, better surface finished and overall longer tool life.
Highest Grade Meehanite Cast Iron (GA50) –Bed, Column, Saddle, Table & Head Stock
• Optimum Damping capacity
• Superb vibration absorption
• Maintains ultra-high accuracies of ±0.002mm (±0.000079") Full Stroke
Thick-wall and Ribbed Box Way Construction
• Kitamura is the only Manufacturer who can offer this construction coupled with world's fastest feedrates of 60m/min (2,362ipm)
• Keeps machine components free from distortions, at the same time, offering superior integrity and reliability
• Heavier overall machine weight when compared with the competition enables the ability to take heavier cuts, all the while ensuring ultra-high end accuracy
23/04/2019 14:24
CRAFTSMANSHIP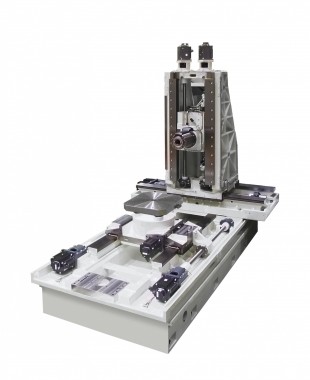 How a Machine is Designed is Pivotal to How it Preforms
• Kitamura's "Mycenter" Machining Centers are built on Kitamura's premise of TGA-True Geometric Accuracy.
• Kitamura designs and builds its machines precisely, from the ground up, no short cuts in design and manufacture.
• Hand scraping of all mounted surfaces requiring assembly in order to provide the full surface contact and proper alignment necessary to ensure exacting parallelism and perpendicularity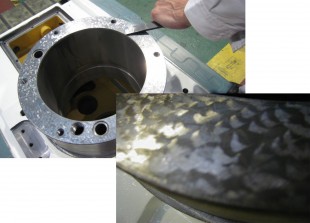 Accuracy – Hand Scraping
• Kitamura offers scraping in order to provide a high precision finish which cannot be accomplished by a machine.
• All critical machine contact surfaces are extensively and meticulously hand scraped by some of the world's most experienced machine tool technicians.
• Machine components such as the spindle mounting surface shown fit perfectly each and every time.
Scraping for Geometry, Fit and Performance – Consistent Accuracies
• Hand scraping and hand fitting of components allow for true geometric tolerances and long machine tool life.
• Consistent accuracies of ±0.002mm (±0.000079") Full Stroke and ±0.001mm (±0.000039") repeatability are able to be achieved as a result of timehonored hand scraping techniques.
• Kitamura Machining Centers NEVER use electronic straightness compensation to adjust squareness, parallelism or perpendicularity.
Built Solid by Design
• Only the highest grade Meehanite Cast Iron is used in Mycenter Machining Center construction.
• Meehanite Cast construction coupled with our induction hardened, precision ground solid boxways provides the mass, stability and damping necessary to withstand extreme cutting conditions and deliver peak accuracy.
• Our manufacturing process is streamlined for optimum efficiency. All machine components are of the highest quality, and are assembled, inspected and tested by a team of dedicated craftsmen. You'll find only the finest in a Kitamura.